Amenities at Ride Royal Blue ATV Resort
The Grounds
Experience a wonderful and exciting vacation at Ride Royal Blue ATV Resort, offering secluded beauty, great lodging amenities and access to miles of exciting trails that wind through the beautiful Cumberland Mountains in Campbell County, Tennessee.
Campbell County is located in the northeastern portion of Tennessee along the Kentucky state line. Mountain elevations vary from 820 feet to 3,350 feet above sea level. The terrain includes gracefully rolling hills with a gorgeous green valley bordered by a clear creek called Stinking Creek (which, fortunately, doesn't live up to its name).
Ride Royal Blue ATV Resort connects to the Tennessee WMA called Royal Blue and Sundquist and offers over 600 miles of trails covering 200,000 acres.
Ride Royal Blue ATV Resort Map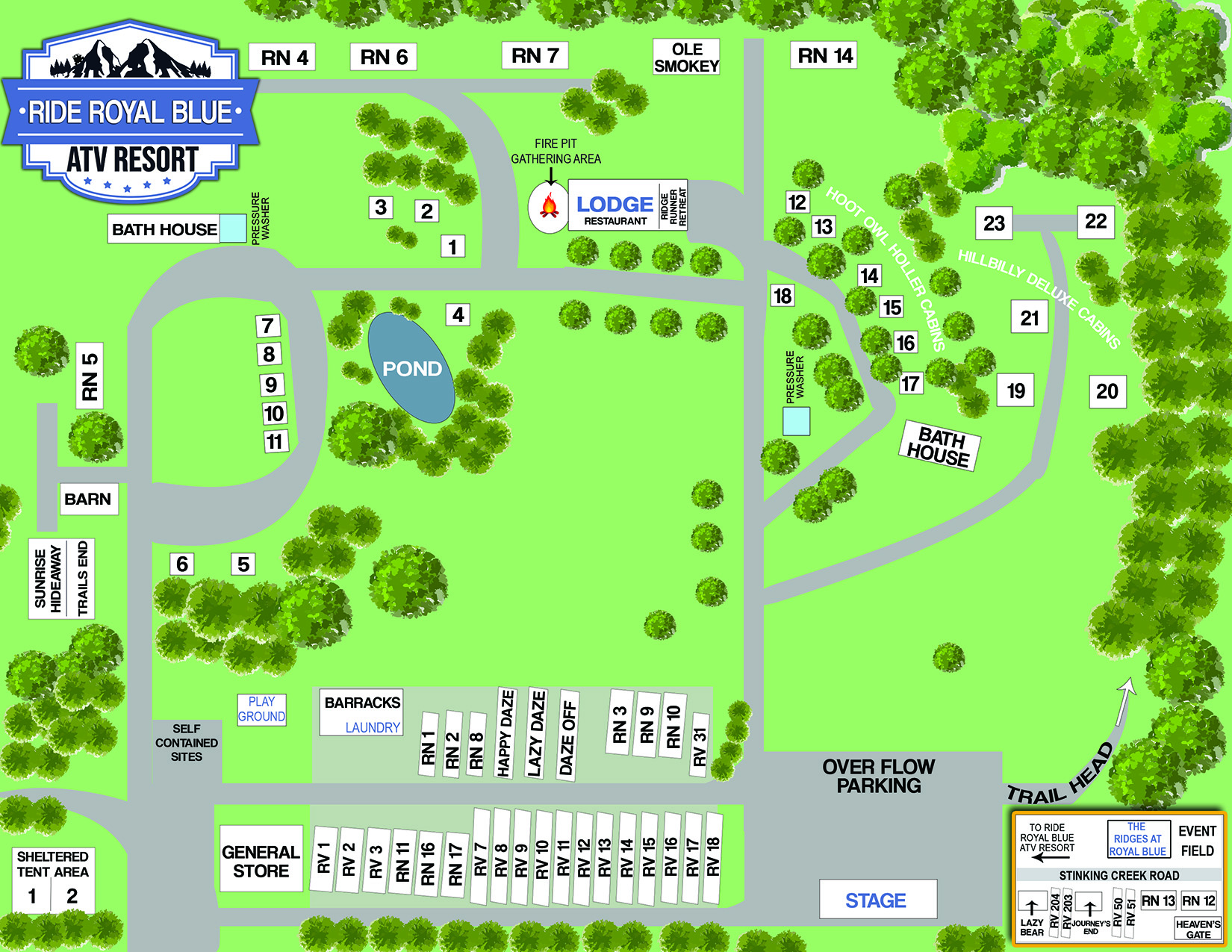 Complimentary Continental Breakfast
For our resort guests only, we will serve a free continental breakfast on Saturday Mornings from 8am-10am.
General Store
Step back into the pioneer days at our Lil' General Store! Our store goods are showcased on old fashioned wooden shelves that were cut from our property's very own timber. We offer hot food options for an easy grab and go breakfast on the weekends.
Whether you want to gear up for an exhilarating ride or roast marshmallows by the fire, you'll find just about anything you need here during your stay.
Supplies include:
Snacks, ice, and beverages
Clothing, hats, rainwear, and jackets
Toiletries and sundries
First aid and pharmaceuticals
Firewood and marshmallows
Riding accessories and oil
Our reception is also located in the General Store.
All guests and visitors must register upon arrival.
ATV Wash Stations
When your ATV needs a bath, we offer ATV wash stations that are open 24 hours a day. Just buy some wash tokens at the general store during normal business hours and use your tokens at the wash station at any time of the day! Closed in off season.