Liability Waiver
You can download and complete the Liability Waiver in advance of your arrival.
Ride Royal Blue ATV Resort Information & Rules
Before you visit, make sure to read our general information and rules.
Note: As enthusiasts of off-road riding, we plead with everyone to please take pride in the privilege we all enjoy in these beautiful mountains—including carrying out all trash! It ruins everyone's experience and the future of our parks to see litter on the trail system. Together, with your help, we can carry on sharing these adventures with future generations.
Resort Map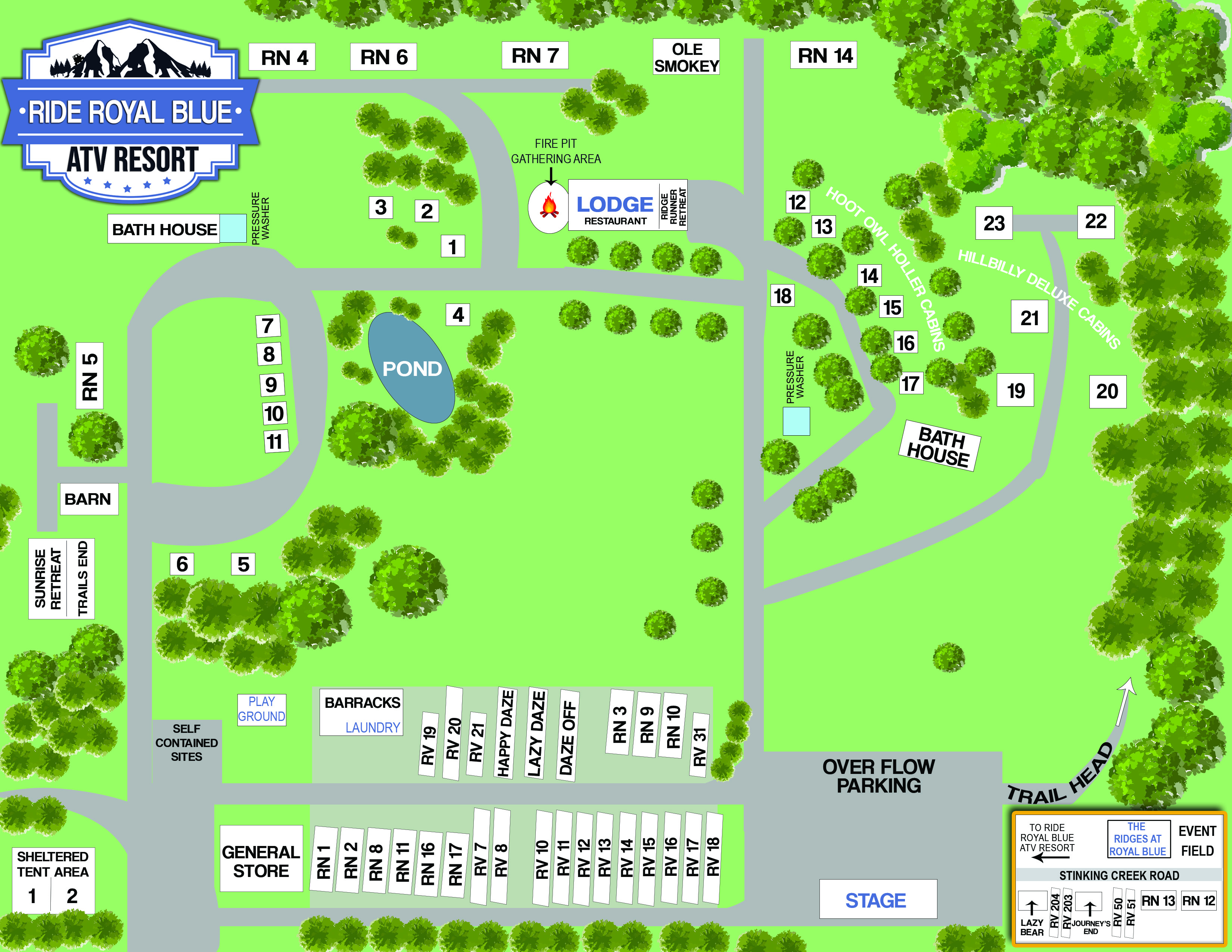 Permits
For online permit purchasing and a speedy check-in process on the day of arrival, please visit the State website.
Every vehicle will need a permit and you can print them conveniently at home. A permit must be carried with you at all times and made available upon request.
Tennessee Residents
Daily Permit: Type 36 ($18 per day)
Annual Pass: Type 1 plus Type 93 ($56)
Junior Annual ( 13± ): Type 2 plus Type 94 ($35)
Passengers and Children 12 and under are FREE.
NOTE: A Sportsman and Lifetime License holder, as well as Active Military Member, will cover your riding permit.
Out of State Visitors
Daily Permit: Type 38 ($40 per day)
Seven-day pass: Type 72 plus Type 93 ($84)
Annual Pass: Type 71 plus Type 93 ($133)
Junior Annual ( 13± ): Type 70 plus Type 94 ($36)
Passengers and Children 12 and under are FREE.
OHV Area Information & Requirements
The Royal Blue, Sundquist, New River, and Tackett Creek OHV areas consist of over 200,000 acres and are accessible directly from our Campground.
Safety Orange apparel is required on the head and chest of each rider during hunting season, which runs from the last week of October to the second week of January. Safety hats and vests can be purchased from our General Store.
TWRA requires that helmets be worn by children under the age of 18 while riding. Ride Royal Blue staff will enforce the use of helmets for children on the resort grounds. Children should only operate age appropriate machines and the resort does not allow children to cruise the campground. Safety is paramount at Ride Royal Blue and we strongly suggest the use of helmets for everyone.
North Cumberland OHV Area Maps
Local Roadway Riding Regulations
Effective July 1, 2017, it is now legal to operate your ATV or SxS on designated County and City roads of LaFollette roadways. You can now ride from the trail system into LaFollette for a shopping break and to enjoy lunch, ice cream, or fuel.
Operators must be 16 and hold a valid Driver's License.
They must operate only during daylight hours.
Must stay on designated and posted roads.
Must carry proof of Insurance.
All Riders must wear a Dot helmet, goggles, and use a seat belt if in a SxS.
Must lawfully obey all rules of the road applicable to other motor vehicles.
Any vehicle operated in the City of Lafollette shall be operated in a safe manner.
Regular safety checkpoints will be conducted to ensure that riders are following procedures.
Subject to any and all laws that are required and established by the State of Tennessee.
No open alcohol containers are allowed in moving vehicles.